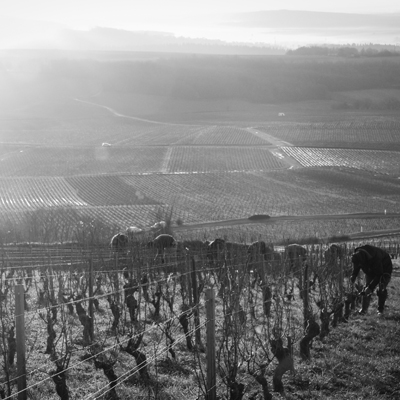 17/01/2020
The pruning Guyot Poussard
Sauvignon, the king grape variety of our appellations of the Center-Loire, is very sensitive to the different wood diseases: BDA (black dead arm), ESCA (black measles), and EUTYPIOSIS, mushrooms that grow inside the vine trunk, disturb the flow of the sap and cause the mortality of the vine.
Today, we replace between 2 and 4% of dead vine every year and more after a year of frost. There is no longer any effective chemical control, so we must act against this real scourge by so-called prophylactic methods: Guyot Poussard's pruning, curettage, layering plantation …
The Guyot Poussard is a more respectful pruning system, it is an adaptation of the simple Guyot pruning by Mr Poussard, Charentais winemaker at the beginning of the 20th century.
Principle :
The pruning Guyot Poussard is a simple Guyot with two arms :
– an arm with a spur
– an arm with a spur + cane
– the fruiting cane alternates side by side every year
– the first eye of each spur must be placed down
It is also important to avoid clean prunings, too clean, which form drying cones inside the shell and then generate necrotic areas (disrupted sap flow).
Objectives :
This size system is more respectful, by a better balance of the vine thanks to the two arms, by a better circulation of the flow of sap, and because it limits the formation of deadwood, of necrotic zones which unbalance and weaken strongly the vines. The appearance of a large volume of deadwood would then favors the attack of wood diseases.